Dear Visitors, we would like to inform you that our meeting points and departs are from Fes city, and for more information contact us.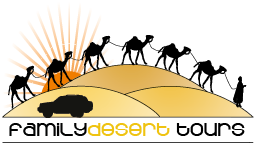 Family Desert Tours is a tour operator specializing in organizing trips And Tours throughout Morocco; We organize bivouacs, safaris and camel treks in the Moroccan Sahara desert, we organize all kinds of tours too; couple tours, group tours, and private tours, in short, we will certainly take you on a memorable trip to see an unforgettable Morocco.

DAY TRIPS FROM MARRAKECH TO ESSAOUIRA
PICK UP FROM YOUR HOTEL AT 8 AM
 We invite you to spend a day in the beautiful and charming Essaouira. It used to be a Portuguese harbor and a port to many of its ships. Essaouira is the example of the combination of both Moorish and Portuguese architecture and art overall. The city is well recognized for its fine wood artifact, silver jewelry making, art galleries and jazz music festivals. It's easy to see why Essaouira is often dubbed the 'Jewel of the Atlantic'. This place has earned such a following that Orson Welles filmed Othello here in 1949. You can roam around the city's narrow streets and marvel at every artistic aspect that is left from ancient civilizations. You can also visit the ancient port, medina and artistic complexes.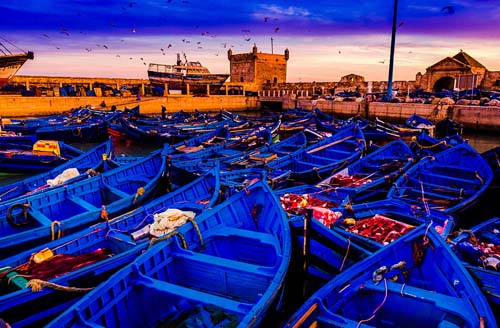 DAY TRIPS FROM MARRAKECH TO OUZOUD WATERFALLS
PICK UP FROM YOUR HOTEL AT 8.30 AM
 If you like nature as much as we do, then we recommend this trip to Ouzoud waterfalls, its high could reach to more than 1100 meters ,  In the heart of High Atlas Mountains exactly in a village called "Tanaghmilt" that belongs to Azilal province .the word Ouzoud literally means the act of grinding grain, so if you would like to walk around its bottom through the tall olive trees then you are welcome.If you want to go around its summit to see old small mills that still function till this day then hope on .later on we will be passing by a very narrowed path towards Beni mellal to watch the wonderful "Wadie el Abid" canyon. Many local and national activities lead projects to protect and preserve the site.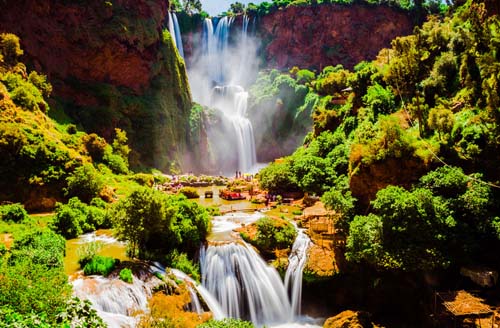 DAY TRIPS FROM MARRAKECH TO AIT BENHADDOU
PICK UP FROM YOUR HOTEL AT 8 AM
 We will be picking you up from your hotel in Marrakech in we will head towards south , we'll pass by High atlas mountains , Tizi n Tichka mountain pass where you could observe the peaks of these mountains .at our arrival to the ancient Kasbah "Kasbah Ait Benhaddou"  we will stop and explore this world heritage site , In which many Hollywood movies were shot like the Lawrence of Arabia , the prince of Persia and many more …. . it is considered as one of the most visited and beloved villages in Morocco , due to its traditional and typical southern architecture . we will eat lunch there and have an exclusive tour in the studios .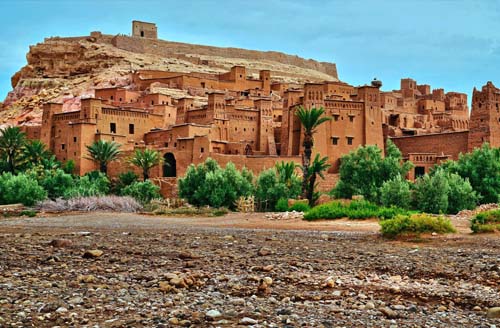 DAY TRIP IN MERZOUGA DESERT
We offer 1 Day trip to Merzouga desert – Erg Chebbi. You can enjoy camel ride, or many desert activities such as sand-boarding, sand-bathing (in summer) , also 4x4 desert tour . This 1 day trip starts in the morning 9 am and finishes at 4 p.m..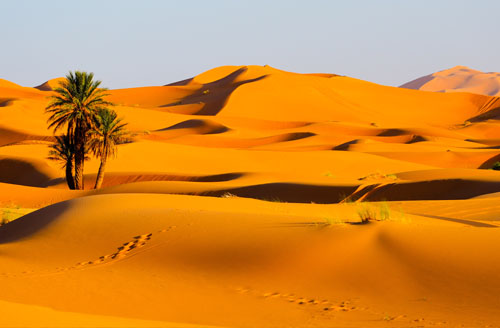 Meknes Guided visit from Fes
The trip will start with a little driving over Meknes , we'll be watching its most famous monuments likeThe Madrassa Bouanania , Bab El Mansour (the gateway to Moulay Ismail palace ), Sehrij  Swani nearby with a vast rooftop that contains a formidable view of town . Here's a fact Meknes was the capital of the first Arabic dynasty that ruled Morocco. There's also a square called Lahdim in front of Bab el mansour that resembles to the Jamaa el fna square in Marrakech . Meknes is known to be much relaxed and quieter than other imperial cities. Its tall walls extend for 40kms with dozens of giant gates. The city captures your attention so easily.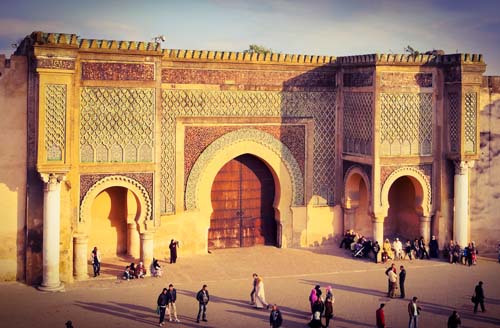 Volubilis day tour from Fes
Volubulis , one of the most important historical and archeological sites in  morocco , it's a heritage from the then  roman empire. The area was declared a World Heritage Site by UNESCO in 1997. It occupies 40 hectares and is located 33 kilometers north of Meknes Although it is now almost ruined yet what is left of it is just outstanding. The marbled floors that seem to keep their shapes and the tall standing towers will alone marvel you. And you cannot miss the forum, the basilica and the temple of Jupiter, the baths, the Arch of Caracalla and the beautiful mosaics. You may have chances of meeting with archeologists that still discover new things with every research in the area .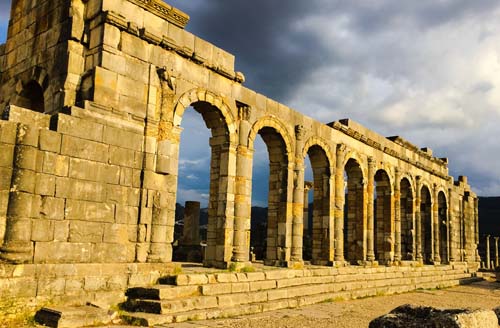 Chefchaouen excursion from Fes
after having breakfast in your hotel we will pick you up at 8:00 am and drive upwards to Chefchaouen the blue city or the pearl of north. It is very popular among tourists those who seek relaxation and gazing at the wonders of Mother Nature. You will wander its narrow streets adorned with homes painted in blue and white. You will also visit its souks and if you are interested in photography chefchaouen is a wonderful place to exercise your skills.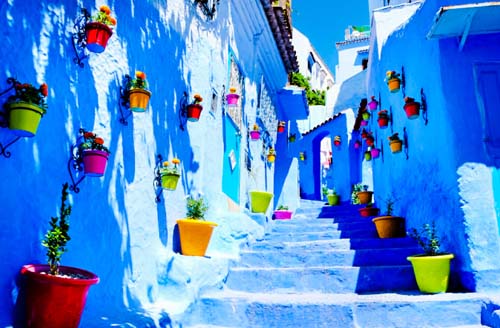 Contact Family Desert Tours


Familydeserttours@gmail.com